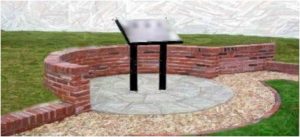 After a momentous first two years being topped by the release of the book and the reunion our aim for the future is to see the erection of a Memorial at or near the entrance to the Airfield and for the group to become a registered charity so we are able to raise funds for this and other projects we have in the pipe line. Above is an artist's impression of how we would like the memorial to look with room for a plaque and space to lay wreaths on Remembrance Day. There will also be an information lectern and will be set in a piece of the main runway that we have salvaged with the help of Saint Gobian who are mining Gypsum on part of the old airfield
One of those projects is to have a RAF Balderton Memorial Hall / Room at Newark Air Museum where we can permanently display all of our pictures and hopefully a model of the airfield.
The group would like to thank all the families of former RAF Balderton Air and Ground crew and those from Newark and Balderton who have provided us with so much information over the past two years, "who'd have thought that back in 1993, when I started my research to several Canadian airmen who wrote me letters and sent me photos of their time at RAF Balderton, that we would be here now!" Pete Stevens Chairman RAF Balderton Research Group.
In order to put these projects into reality we need all the help we can get. We will be looking at becoming a charity, fund-raising and grants all to give this former airfield the memorial and recognition it deserves.
Please donate as little or as much as you can.