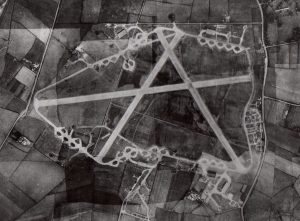 Construction began in early 1940's on acquisitioned farmland to build a new airfield two miles south of Newark, Nottinghamshire.
In August 1941 No 25 OTU (Operational Training Unit) used it as a satellite base to fly the Handley Page Hampden bomber.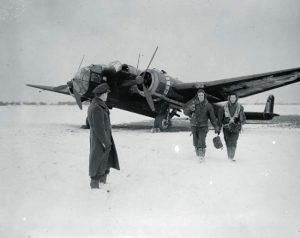 408 Royal Canadian Air Force
The first squadron to take up residence was No. 408 RCAF Squadron who arrived in December 1941 and took part in many missions until they departed the base in 1942, sadly many aircrew casualties were claimed whilst operating from this airfield.
In 1942 work began on new hard runways to allow for heavy bombers to land.
The No 1668 Heavy Conversion Unit was formed in August 1943.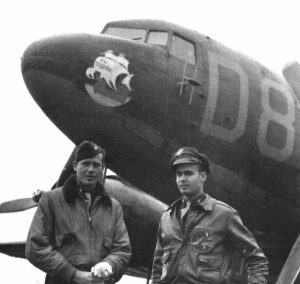 Ninth Air Force USAAF – 437th and 439th Troop Carrier Groups
The airfield, now fully completed, was taken over officially on New Year's Day 1944 by the Ninth Air Force USAAF.  The base was renamed by the Americans to Station AAF-482 – station code BD.  The two main units in residence were 437th Troop Carrier Group and 439th Troop Carrier Group. The 439th flew paratroopers of 82nd Airborne Division, along with gliders and supplies etc, as part of Operation 'Market Garden' in September 1944 to Groesbeek nr Nijmegen, Netherlands. The Americans departed Balderton towards the end of that month.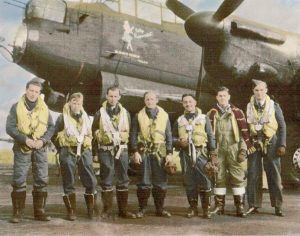 227 RAF Squadron
However, it wasn't quiet for long at the airfield as early October saw the arrival of No. 227 Squadron RAF with their Lancaster Bombers. The squadron's first mission from the airfield was on the 11th October 1944 to Flushing. During 227 squadrons time from Oct 44 to April 45 the squadron suffered 61 casualties with a total of 16 Lancaster Bombers lost.